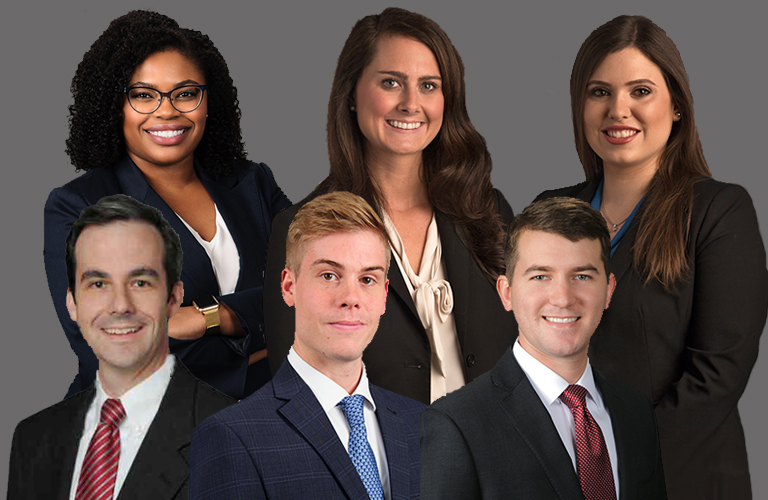 ATLANTA (November 6, 2017) – Smith, Gambrell & Russell, LLP (SGR) is pleased to announce the addition of six new attorneys to the firm: J. Alexander Brock, R. Danielle Burnette, Samuel L. Chapman, Cassandra R. Daum, Nicholas P. Flint, and Nicole L. Kalkines.
Alex Brock is an Associate in SGR's Atlanta Zoning, Planning and Land Use Practice where his work includes re-zonings, variances, special or conditional use permits, special exceptions, subdivision approvals and all other permitting. Prior to joining SGR, Mr. Brock worked as a civil engineer engaged in the civil design, hydrology design, and regulatory permitting of commercial, industrial and institutional projects throughout the U.S. He received his B.S. in Civil Engineering from the Georgia Institute of Technology, his M.S. in Engineering from the University of Maryland and his J.D. from the Georgia State University College of Law.
Danielle Burnette is a Law Clerk in the Atlanta Litigation Practice where she advises clients on their diverse needs in the areas of commercial litigation, land use, and employment law. She represents clients in federal and state trial courts throughout Georgia. Ms. Burnette attended the University of Georgia where she received her J.D., as well as her B.A., magna cum laude, in Political Science.
Sam Chapman is a Trainee Solicitor in the Corporate Practice of SGR's Southampton, U.K. office. Prior to commencing his training contract with SGR, Mr. Chapman worked as a paralegal for a law firm within Southampton, UK, specializing in Banking and Finance and Aviation and Aircraft Finance. He received his Bachelor of Laws (Honours) from the University of Southampton, and completed his LPC and Masters in Law, Business and Management from the University of Law.
Cassie Daum is an Associate in SGR's Jacksonville Intellectual Property Practice, which includes work in trademark and copyright infringement disputes, trademark policing, and takedown claims under the Digital Millennium Copyright Act. She also practices in the area of commercial real estate law, with experience in lending transactions, title insurance, and commercial leasing. Ms. Daum received her B.A. from the University of Florida with a major in Political Science and minors in English and Mass Communications. She earned her J.D. from the University of Florida Levin College of Law.
Nick Flint is a Law Clerk in SGR's Atlanta Corporate Practice where he represents domestic and international clients on a variety of corporate and transactional matters, including mergers and acquisitions, private equity and venture financing, corporate governance, and securities law. His experience includes transactions involving asset and stock purchases, commercial leasing, and the sale of debt and equity securities. Mr. Flint received a B.S. in Business Administration majoring in Marketing with highest honors, from the Georgia Institute of Technology. He earned his J.D., cum laude, from the University of Georgia School of Law.
Nicole Kalkines is an Associate in the Jacksonville Litigation Department. Her practice focuses on general commercial litigation, spanning a wide variety of matters, including contract disputes, products liability, and defending actions brought under consumer protection statutes. Ms. Kalkines received her B.A. in Political Science, summa cum laude, from the University of North Florida and her J.D. from Vanderbilt University Law School.
About Smith, Gambrell & Russell, LLP
SGR is a full service, international law firm that advises regional, national and global businesses on a wide range of legal matters. The firm's more than 200 attorneys provide legal counsel in more than 45 specialized practice areas, including corporate transactions, litigation, intellectual property, aviation, banking, real estate, construction and employment law. Founded in 1893, SGR has offices in Atlanta, Austin, Jacksonville, London, Munich, New York, Southampton, and Washington, D.C.